Pri ASBIS-u počaščeni ob prejemu nagrade za odlično pozicioniranje blgovne znamke in za povečanje prodaje s strani DELL-a!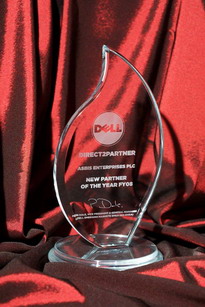 Nagrado je predal predstavnik podjetja DELL Pim Dale, podpredsednik, Dell Emerging Countries, EMEA, na Dell Emerging Markets Partner Forumu, ki se je dogajal v Benetkah (Italija) od 11. do 13. Aprila letos.
Nagrado je prejel Laurent Journoud, ASBIS podpredsednik za prodajo in marketing. S tem je DELL priznal ASBIS kot podjetje, ki uspešno trži DELL produkte. Nagrada, ki se imenuje "New Partner of the Year FY'08" oz. "Novi partner leta 2008" je zelo pomembna, saj še povečuje odgovornost samega distributerja in s tem celotnega podjetja ASBIS.
To je prva DELL nagrada, ki jo je prejelo podjetje ASBIS od začetka sodelovanja v letu 2007. ASBIS prodaja DELL produkte v naslednjih državah: Rusija, Bolgarija, Turčija, srednji Vzhod, Ukrajina, Slovenija, Ciper, Belorusija, in Hrvaška.