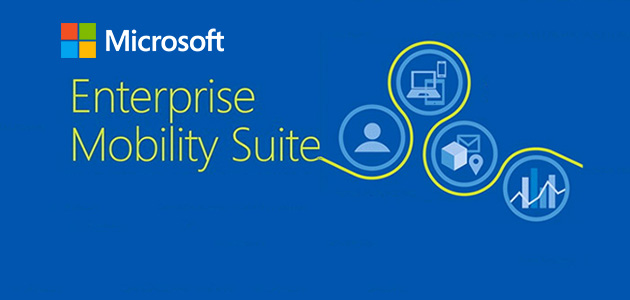 Microsoft Enterprise Mobility Suite
Naj bodo vaši zaposleni produktivni z njihovimi najljubšimi aplikacijami in napravami - in podatki vašega podjetja zavarovani z Microsoft Enterprise Mobility rešitvami.
Glavni uporabniki
Bančništvo
Proizvodnja
Zavarovalništvo
Blago široke potrošnje
Telekomunikacije
Turizem

Zdravstvo
Znanost in razvoj
Javna uprava
Javna varnost
Glavne značilnosti
Ogromno aplikacij, ena identiteta: Enoten vstop za tisoče popularnih SaaS aplikacij kot so Salesforce, Concur, in Workday. Orodja, ki vam privarčujejo denar.
Upravljajte z iOS, Android, Windows — z enega mesta: Bodite pripravljeni na vse, karkoli zaposleni prinesejo na delo in upravljajte z njihovimi mobilnimi napravami in Windows 10 napravami z ene same konzole.
Keep work at work: Pomagajte zaposlenim, da bomo bolj produktivni in ločite službene in privatne aplikacije in podatke.
Enterprise Grade Security za vašo organizacijo: Šifrirajte pomembne datoteke in podatke, da boste zagotovili dostop le potrebnim uporabnikom. Identificirajte napredne grožnje, preden povzročijo kakršnokoli škodo vaši organizaciji.
Komponente Enterprise Mobility Suite
Azure Active Directory Premium

Self-service password reset to reduce helpdesk calls
Multi-factor authentication options for greater security
Group-based provisioning and single sign-on for thousands of SaaS apps
Machine learning-driven security reports for visibility and threat management
Robust sync capabilities across cloud and on-premises directories

Microsoft Intune

Mobile application management across devices
Broad device support for iOS, Android, Windows and Windows Phone devices
Selective wipe of apps and data for greater security
Use of System Center Configuration Manager and Endpoint Protection

Azure Rights Management

Information protection from the cloud or in a hybrid model with your existing on-premises infrastructure
Integration into your native applications with an easy-to-use SDK
Windows Server Active Directory Rights Management Server CAL use rights

Microsoft Advanced Threat Analytics

Behavioral analytics for advanced threat detection
Detection for known malicious attacks and security issues
Simple, actionable feed for the suspicious activity alerts and the recommendations
Integration with your existing Security Information and Event Management (SIEM) systems

Windows Server CAL

Windows Server CAL use rights
5 razlogov za izbiro Microsoft Enterprise Mobility Suite
1. Boljša Office zaščita: Edina rešitev, zasnovana za zaščito vaših Microsoft Office datotek, aplikacij in elektronske pošte.
2. Prihranek denarja: Do 50% nižji stroški kot pri nakupu ločenih rešitev drugih dobaviteljev.
3. Preprosto dela: Enostavna namestitev, vedno posodobljena, povezava z vašim podatkovnim centrom.
4. Večja varnost: Varnost je bistvo. Pomagamo vam identificirati varnostne kršitve, preden lahko povzročijo škodo.
5. Celovita rešitev: EMS protect iOS, Android, Windows, Windows 10, in več kot 2,500 popularnih SaaS aplikacij.